Introduction
The Cereal Project deals with the whole cereal value chain, from cultivation to food and beverage production and consumers. Output 1 – A Farmers Handbook represents the outputs which agriculture can benefit from. This work has been carried out under work package T2, Technical Developments. The handbook collects information for farmers but outputs are more detailed as explained below. Output 2 – Cereal Food Products covers new food products developed under the project from domestically grown cereals. Output 3 – New Beverage Products covers the development of new beverage products, including the production of malt, from local barley.
Under RESOURCES in this website, users can find tools and information to support development in agriculture and food production. Examples are: A report on a study of cereal markets, guidelines to help farmers to increase sustainability and a report informing about quality criteria for malting of barley. This material is organised by topic to make it easier for users to find what they need.
Farmers' handbook
A handbook for farmers was developed in the project and it has been published on this website under Resources. This handbook includes guidelines for cereal production in areas at the first stage of such production and indicate knowledge for improvement of current cereal growing. Two reports on suitable areas for cereal growing have been published under the Resources section.
The primary aim is to provide the basic guidelines for cereal cultivation and processing of the grain to make available the know-how necessary for supporting stakeholders in their goal to use cereals to produce higher value feed and food products. This will increase the income of farmers and create jobs in rural areas. The main emphasis is on cereal cultivation, meteorological data, local climate and soil conditions. Pests and diseases, including birds and rodents, are considered. Suitable regions, based on the criteria obtained are identified for each country. Available information from variety trials is used.
The guidelines contain advice on cultivar selection, sowing time, harvest time, fertilizer requirements and protection against pests and diseases. Finally all partners make a coordinated effort to encourage farmers either to initiate cereal production or increase the value of their current production by providing raw material for the food and beverage industry. This is carried out in close collaboration with associate partners in each region.
High quality food developed from barley grain and malt and beverages can only be made from grain of good quality. This depends upon the use of appropriate varieties and cultural practices in the field and good post-harvest processing and storage. Knowledge transfer to farmers is carried out through direct contact, meetings with farmers, conferences / seminars and internet. The Cereal Facebook site is used for knowledge transfer.
Cereal food products
The outcome is concrete new unique products which use northern cereals as the raw ingredient. Product innovation and development in both the production process and marketing strategies are important to achieve this goal. New cereal food products increase the demand for locally grown cereals. This has the benefit of creating new opportunities for employment and product development and innovation. This output corresponds to project objectives 1 (to increase value of cereal products) and 3 (to increase utilization of cereals for new products).
Work on promoting the use of domestic cereals for foods is continuing throughout the project. Two product development courses have been held and new products are appearing on the market. Guidelines have been prepared and can be downloaded from section RESOURCES – Topic: Food products. Guidelines are available in English and Norwegian.
New beverage products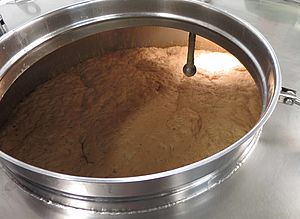 New beverage products increase the market for locally grown cereals by developing their use for making high-value beverages across the partner regions. This will have the added benefit of creating new opportunities for product development and employment within the beverages sector which has expanded recently across the region with the development of microbreweries and microdistilleries. This output corresponds to project objectives 1 (to increase value of cereal products) and 3 (to increase utilization of cereals for new products).
The production of malt is a key step in the production of alcoholic beverages. This is often problematic for initiators and small companies starting beverage production. Therefore considerable effort was put into testing of malt production and preparation of guidelines. Orkney has considerable experience with beverage production and SMEs from other countries have benefitted from this experience through study visits and training. Guidelines and reports on this topic can be downloaded from RESOURCES – Topic: Malting and Topic: Beverages.
Output information
Information on outputs is reported under this heading.